Trezors are one of the most popular hardware wallets there are, but did you know that you can pay for the products in our catalogue using your Trezor? This guide explains how to spend your Crypto on Bitrefill using your Trezor.
Step 1: Go to https://www.bitrefill.com/buy or download the Bitrefill App on your phone and choose a product among the biggest brands out there (Amazon, AirBnB, Netflix, among many others). For this guide, we are going to purchase a Shell Brazil Gift Card
1.) Go to Bitrefill's Home Page: Select your country and product you are interested in.
a.) Product's page: Enter the amount of the product and add it to the cart.
b.) Cart: You can either add more products or checkout. For this guide, we are gonna proceed to checkout only with the Shell Gift Card.
c.) Payment method: Review the items in your cart and choose the cryptocurrency you would like to pay with. We currently accept: Ether, Bitcoin (onchain and Lightning), Dash, Dogecoin, Litecoin, and USDT (ERC20 and TRC20). Unfortunately, not all these crypto are supported by Trezor. For this guide, we will make the payment using Bitcoin.
d.) Select Trezor as your wallet: At this step you should already have your Trezor plugged in, you will see the payment instructions and the option to select the wallet you prefer to use - in this case Trezor.

e.) After selecting your wallet as Trezor, you may click on "Pay in Wallet" and Trezor Suite will open automatically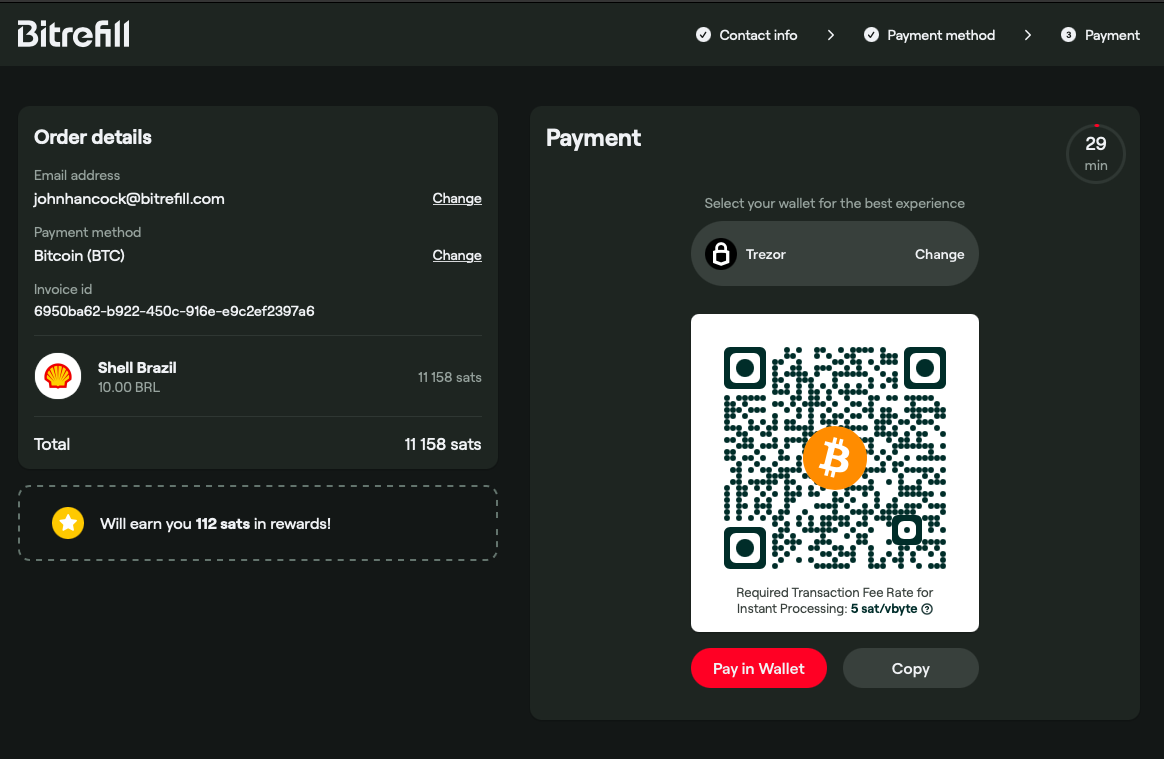 Step 2: Complete the payment using Trezor Suite.

a.) The application will automatically open and you will be prompted to confirm the transaction on your Trezor device (for this guide we are using the Trezor model T)



b.) After confirming the transaction using your Trezor device - the last thing to do in this step is to click on 'Send' on the Trezor Suite Application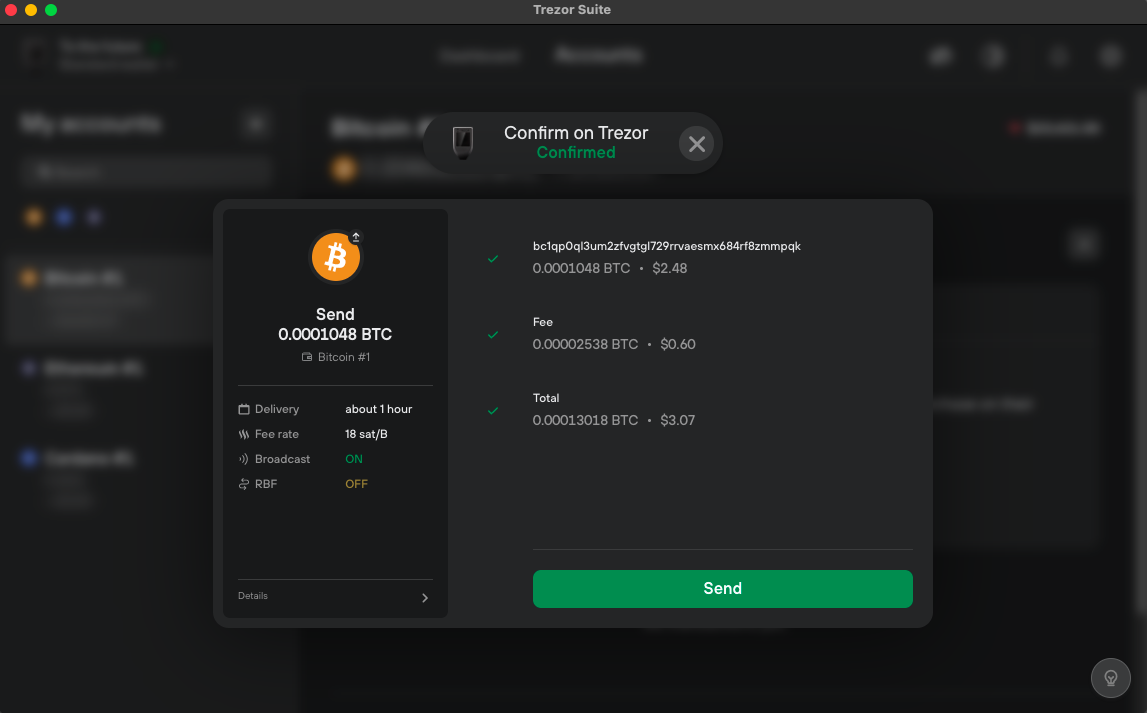 Step 3: Redeem your gift card and enjoy your purchase =)

a.) You may go back to the checkout page at Bitrefill, once you transaction is confirmed by the blockchain you order will show up!


b.) You may also see your gift card details under Account > My Products
c.) And an Invoice email will be sent when the payment is confirmed - it will contain a link to the redemption instructions.
Please do not hesitate to reach out to Bitrefill's customer support if you have any further questions!