Registering a Bitrefill account allows you to keep a balance with us, which is a great option for recurring customers that want to save on fees when making frequent purchases or even to escape crypto volatility.
You can top up your Bitrefill account by logging in, going to Account and then selecting the red 'Add Funds' button (or use the link https://www.bitrefill.com/account/topup)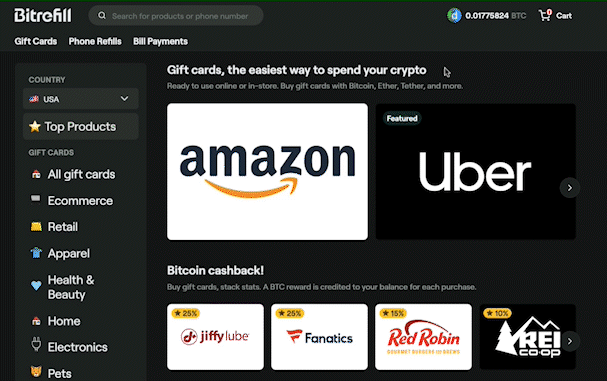 You can choose to add funds through 5 different ways:
a.) Traditional Bitcoin Transaction
b.) The Lightning Network
c.) Using Ether
d.) Using USDT ERC20 or TRC20
e.) Using USDC ERC20
In case you choose to top up your account using BTC you may select if you wish to keep the amount you transfer as BTC balance within your Bitrefill account or convert it instantly to USD or EUR balance.
If you choose to add funds using another crypto, you will have to select whether you want to convert the funds to your USD or EUR balance.
Then you may select the wallet you prefer to use to make the transfer or simply use the QR code, wallet address, or Lightning invoice to make your payment. Deposits will be added to your account instantly if you paid through the Lightning Network, after 1 confirmation if you did a Traditional Bitcoin Transaction; after 4 onchain confirmations on the Ethereum Network and 20 confirmations on Tron.
You're now ready to purchase your first gift card, digital voucher, or mobile refill using your Bitrefill account balance!
**Note that Balances cannot exceed 10,000.00 USD and account top-ups cannot exceed 2,000.00 USD (or the equivalent in the balance currency).